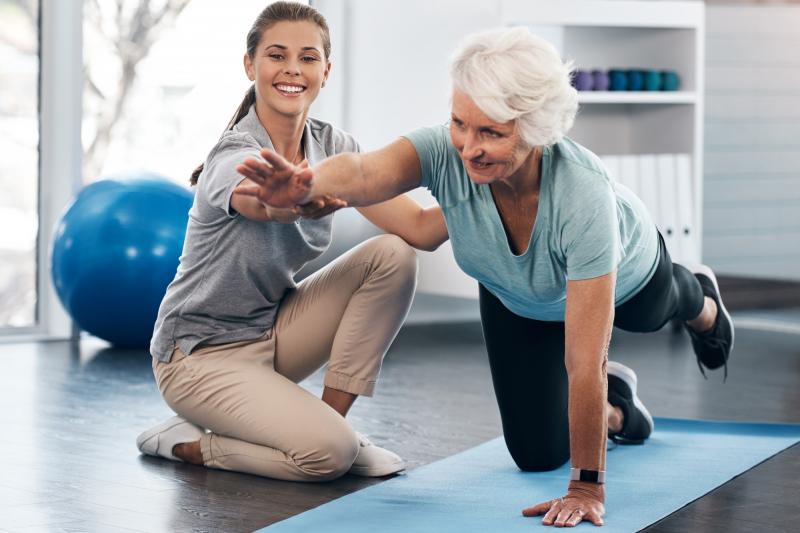 When it comes to our patients, Texas Health Huguley Therapy Services
Does Not Take Shortcuts.
Our therapists possess specialized training and experience to deal with any patient's diagnosis. With more than 110 years combined outpatient experience, our staff has specialty certification or concentrated practice in orthopedics, sports medicine, manual therapy, and aquatic therapy.
Our low patient-to-therapist ratio ensures a hands-on approach to treatment with individualized care.
We have two locations that include two spacious rehab gyms, a variety of resistance and cardio equipment, indoor lap and therapy pools, and the use of the 55,000-square-foot Texas Health Huguley Fitness Center. To promote continued wellness, you may enjoy a free one-week trial membership to the Fitness Center following discharge from therapy.  And, if you decide to become a Fitness Center member, the enrollment fee will be waived.
Services We Offer
2 items. To interact with these items, press Control-Option-Shift-Right Arrow
Physical Therapy

Texas Health Huguley Hospital's physical therapists specialize in the treatment of injuries to muscles, bones, ligaments, joints and nerves.  Our goal is to return patients to their normal activities while helping them move and feel better and prevent re-injury.  We offer comprehensive evaluation and treatment for the following: 

Manual techniques for spine and extremity injuries
Post-surgical orthopedic rehabilitation
Sports medicine, core stability and rehab for the weekend athlete 
Work accident evaluations
Training and consulting in activities of daily living
Treatment of repetitive stress disorders (tendonitis, bursitis, impingement, ligament, nerve, etc.)

Additional Certifications and programs include:

Five of our therapists have Doctorates in Physical Therapy, DPT
One-on-one Aquatic Therapy with Aquatic Therapeutic Exercise Certified Therapist
Certified Orthopedic Manual Therapist (COMT)
Athletic Training Certified Therapist
Vestibular Rehabilitation
Lymphedema Treatment
TMJ rehabilitation
Kinesio-tape Certified Therapists
Therapists certified in Integrative Dry Needling

Occupational Therapy

Our Occupational Therapist is skilled in taking a whole body approach to your care.  We can offer:

Post-surgical treatment for tendon, ligament, fractures, nerve and carpal tunnel injuries
Manual techniques and myofascial release therapy
Training and consulting in activities of daily living 
Repetitive stress disorders (tendonitis, bursitis, etc.)
A comprehensive approach including combined occupational and physical therapy treatments with therapists who communicate and work together to completely restore your functionality.